admaDIC Calculator - Christmas Skin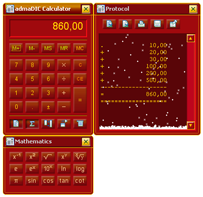 A christmas themepack is available for the admaDIC Calculator. Enjoy the Christmas mood of the Program as well as the "snow falling over the tree" (well - rather numbers).
Choose 'Skins - Xmas' from the menu to activate the Christmas theme. You need the latest version (min. v1.0.2) of the calculator to use it, where the themepack is included as a standard feature.